A living room, family room, den , gathering room, lobby, nest, your happy place, whatever you call it is the space designated in your home to live. With the advancement of science and modern day luxuries we all deserve to make our caves a little more than just livable. You want to turn your home into your sanctuary, your place of peace and love and a showpiece that can be admired by all your visitors. But money can be an hindrance as much as it is an enabler.
The good news is that a good design can make a room look really chic for a very low amount. Often, you do not have to embark on buying spree for furnishings and decor but rather move things around and everything just falls in place.
Whether you are looking to completely redecorate or you want to revamp life and spark of your living space, our ideas will help you. Seeing is be-living and so here goes!
1. Gray Monochromatic Neutral Living Room
You can choose to go with this super stylish monochromatic living room with grey walls and wood floors of whitewashed hardwood.  You have a range of modern light grey wood floors and matching sofas and furniture making together a harmonious winter inspired and neutral living room design. Grey floor designs with French Parquet design in whitewashed gray tone is great for setting that classic interior.

Source
2. Small Chic Living Room
When you want to bring back that warmth to your happy place you need to go all the way and get a fluffy warm rug to throw over your shiny wooden floors. Furnishing smaller living areas can be an insurmountable task for rookie designers. We hope you are inspired by this stylish decorated with the warmth of home and miniaturized furniture for a roomier appearance. Wooden sliding doors also save a great deal of space and add to the warmth.

Source
3. Get Wordy
If you are considering getting a center piece for your wall decor then you might want to consider getting wordy. This farmhouse styled wall decor is chic and consists of high resolution printed graphic and simple affordable framing. Get a rustic home sign farmhouse wall decor that is suitable larger living room and tiny rooms. Rustic woods, neutral colored crisp whites and every aspect of this nostalgic scene line up perfectly.

Source
4. Budget
As with other things in life, you don't always get what you pay for with design. Go for an affordable look that you like without blowing your budget. This is one of such simple and efficient family room decorations ideas on a budget. A complete room makeover is always a possibility when you have an extravagant budget but sometimes it's the simple additions that make the most difference. We hope you find the inspiration you need to put some of the items you already have in your home into better use.

Source
5. Contrast Is Your Friend
At your dark colored ceiling versus white walls creates a deep contrast making the bright features of the décor pop. It's a bold move that also requires some hint on colors because the darker color must not be too dark or the room will not be as cozy or intimate as in picture. Darker ceilings appear to be lower than they actually are and give any living room a pub like polished feeling. This set also contrasts with the diamond white rug.

Source
6. Small Living Room Decor
Small spaces are just as hard if not more difficult to decorate than larger rooms. Try choosing smaller furniture and best arrangements and furniture layout for a modern spacious studio feel. Even this small living space deserves a touch of class to make it roomier and elegant. You have to keep it tidier with smaller sets and minimalist approach to living. This neat studio feels larger than larger but often cluttered living rooms.

Source
7. Easy Bachelor Pad
Bachelor pads may have been a term used in the past to describe total meltdown of order with chaotic spaces busting with sports regalia and memorabilia and tack art, but things change. Designer have also creatively attacked the problem of organizing dudes with color schemes and sports arts collection. With this look you can transform your home into an elegant and welcoming space. There are not many choices to shout your masculinity and this set with its worn in aged textures is one of the best ways to do so. For much less than expected you can have this unique look for guys in your living space.

Source
8. Animal Hide Layer Up
Here comes an unusual simple arrangement with grey color theme and matching sofa. The layer up is also quite striking because it resembles an animal hide or skin. You might be toying around with the idea of using real untanned animal skin but this is probably an industrial piece that is deliberately rugged. This decorator chooses a dark grey color for the sofa and a lighter shade which goes well with the dull floor and contrasts with the white rug and walls.

Source
9. Simple And Pretty
DIY craft is the way to go when you want something that is not out of the book. The wall decor steals the show on this one. The sofa and side coffee table are welcoming and the flowers give life to the space. Notice how the pillows match the color scheme of the central wall decor piece.

Source
10. High Ceiling With Light
If you can control the variables, go for a high ceiling with natural lighting. Trust that the two make the room feel larger than it really is if that's the effect you want to achieve. When you have a small apartment to decorate, furniture arrangement is another game changer in terms of making room. Small living space like this one can indeed be made to feel larger by using these simple tweaks. its how you make use of available space that really counts.

Source
11. Shabby Chic Feminine
Decorating your interiors is sometimes a great deal of pleasure when you choose to do what you love. This set feels warm and inviting and is obvious not neutral or anything of the sort but still looks awesome under the light. There is nothing wrong with making your living space feel like Christmas all year. The candle lights give the starry feel and the soft pillows must be a delight for the warmth and comfort of your happy place and nest.

Source
12. Try Black and White and Gold Decor
Simple is cute and we all love cute and small living room decors. With this look you can make your guest want to move into a smaller apartment. Usually golden decor will go nicely with a black background which is the sofa and rug. You can get the wooden sign at budget prices.

Source
13. Cheap Can Look Expensive
Whatever you do, you have look elegant without blowing your budget. You are looking for lovely soft colors that look and feel like luxury for cheap. This kind of art will help you make the most out of your dorm room walls and space without pushing your spending limit. There are plenty of budget friendly sitting room decoration ideas and this is a great example.

Source
14. Go for Gorgeous
Sometimes you want something jaw dropping. Do not settle for less, go for something that will enchant all your friends and guests for months to come. You may want to surprise yourself every morning as you step into your new living space and you be like all that and it belongs to me. For this one you might need to invest in fashionable furniture that best fits your space.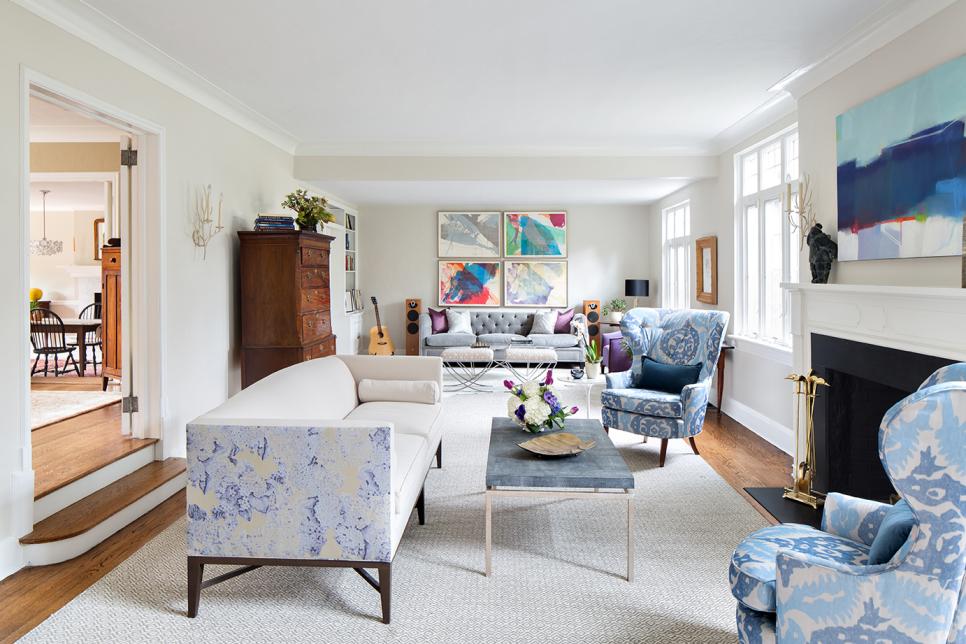 Source
15. Beige Couch
One of the greatest additions to any living space is a beige sofa. This decorator makes the sofa stand out more by placing it in front of dark colored walls. The rest of the color selection combining chocolate brown with white make the room feel warmer. This goes to show that we don't always use a deep contrast to bring out things. You can achieve harmony at any note including charcoal grey.

Source
16. Hygge is not Something You Buy
The news art of decorating for user experience means that hygge is not what you buy but how it make the room feel. You should decorate for what makes the room fee warm but not stuff. Check out some more scandi tips online to recreate this look of home. Proper lighting and candle warmth are a big chunk of hygge.

Source
17. You Can't Go Wrong with Farmhouse Decor
Farmhouse decoration is some of the most beautiful options for your living space that is universally appealing. That largely owes to the use of mostly neutral colors and some rustic antiques that make the look natural and easy to maintain over longer periods. Brown leather couches are for obvious reasons appropriate for farmhouse interiors. Throw in some deer horns and reed basket on a rustic oak table and you get it on point.

Source
18. Boho Vintage Wall
Bohemian interior decor is as graceful as they come and this particular look is vintage DIY themed. You just need to include some similar piece you like to make your wall interesting. Sticklers for detail will strive to recreate the exact same look even though it is not necessary.

Source
19. Barn Conversion Coffee Table
Shabby chick living rooms have been growing in popularity ever since the phrase and look was coined. It borrows a little bit of everything from rustic nature to modern chic living room decors. the central barn conversion coffee table is a focal point for the entire set. It feature nice barn like features with pastel mint green sides that looks good on the knitted aged linen rug. The aged sides are contrasted with the spotlessly finished wooden top.

Source
20. Mid-Century Makeover
Simplicity is what defines a mid-century living room. You can tap into this old school theme to get a unique stand out look for your living area. Starburst wall decor go side by side with bookshelves of old which looks gracefully aged. Throw in a lime green couch and you have yourself a time machine in the form of a living room. The leather chair is made from a solid wood base and the upholstery is aniline leather.

Source